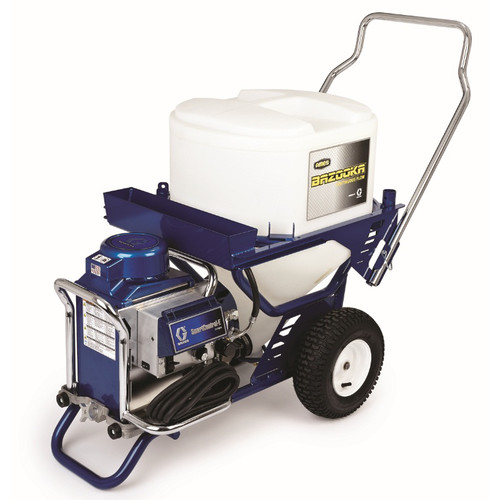 We're sorry, but this item is no longer available.
Product Features & specs :
TapeTech CTPMP Continuous Flow Pump
Details
The pump is the heart of the Continuous Flow system. The air tight 25 Gallon hopper keeps any leftover compound ready for the next day and also filters out any hardened pieces of compound. It also serves as a wash station and the compound can be automatically emptied on command.
Features:
MaxPower Motor with lifetime warranty
Endurance Pump with horizontal design for easier pump loading
25 gallon hopper with air tight lid
Advantage Drive System links the motor and the pump
Integrated Tool Tray
Max Flo design efficiently loads compound
Flat-proof tires
Internal Hopper Filter
Extreme Duty steel frame protects critical components from damage
Pump and hopper double as a tool washing station
What's Included:
50 ft. Hose (257133)
15 ft. Whip Hose (223756)
Z-Swivel Attachment (24D166)
Hopper Filter (16C298)
Recirculation Hose
Warranty:
Ames Continuous Flow 1 Year Limited Warranty
Ames Taping Tools (SELLER) warrants that all Ames tools will be free from defects in material or workmanship for a period of one (1) year from date of purchase. SELLER'S SOLE OBLIGATION under this Warranty and, to the extent permitted by law, any warranty or condition implied by law shall be the repair or replacement of parts, without charge, which are defective in material or workmanship. At the SELLER'S sole discretion, a replacement tool may be supplied if original tool is found to be unrepairable, in which case, the original warranty term will remain in effect for the replacement tool. This warranty is void if the tool has been damaged by accident, in shipment, misuse, neglect, improper service, installation of non-Ames parts, unauthorized modifications or repaired by persons other than Authorized Service Centers. To make a claim under this warranty, you must return the complete tool, transportation prepaid, to Ames Service Center or an Authorized Warranty Repair Center.
CUSTOMER'S RESPONSIBILITY under this Warranty begins on the date of customer purchase. Warranty is not transferable. For your convenience, keep your dated bill of sale as evidence of the purchase date. You are required to present this bill of sale to the service center to obtain warranty repair. Please include a brief statement indicating the nature of the problem. For warranty service information or a complete list of Warranty Service Centers contact the place of purchase, or contact our Customer Service Department for assistance:
Ames Taping Tools Customer Service Department 800-241-2771
IN NO EVENT SHALL AMES TAPING TOOLS BE LIABLE FOR ANY INCIDENTALOR CONSEQUENTIAL DAMAGE, DELAY IN RENDERING OF SERVICE, OR LOSS OFUSE DURING THE PERIOD IN WHICH THE TOOL IS AT THE REPAIR CENTER OR OTHERWISE, WAITING REPAIR OR PARTS. This warranty gives you special legal rights and you may also have other rights, which vary from state to state. Some states do not allow exclusion or limitations of incidental or consequential damages or limitations on how long any implied warranty may last, so the above exclusions and limitations may not apply to you.