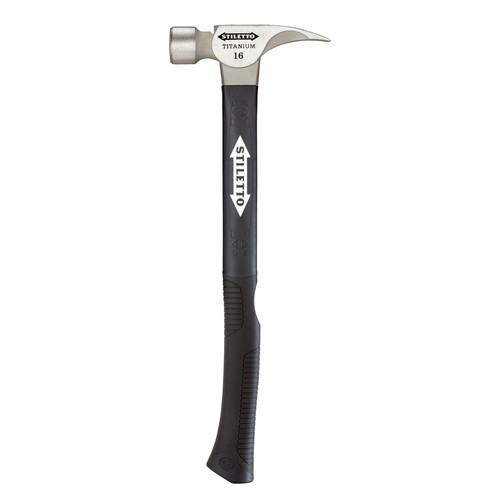 Stiletto TI16MC-F 16 oz. Titanium Milled 18 in. Curved Poly-Fiberglass Handle Framing Hammer
Stiletto Model:

sttnti16mcf
This item qualifies for
FREE SHIPPING
Stiletto TI16MC-F 16 oz. Titanium Milled 18 in. Curved Poly-Fiberglass Handle Framing Hammer
Stiletto Model:

sttnti16mcf
Product Features & specs :
Stiletto TI16MC-F 16 oz. Titanium Milled 18 in. Curved Poly-Fiberglass Handle Framing Hammer
Details
The Stiletto 16 oz. Titanium Smooth/Curved Framing Hammer weighs 45% less than its predecessor and achieves 10% less recoil during hammering applications. The new design has an increased driving performance that surpasses the TI16MCP. The poly/fiberglass handle increases grip and decreases user arm fatigue. The thumb divot in the handle is ergonomically designed to increase your control of every strike. It's the Stiletto you know, but better and stronger than ever before.
Features:
New poly/fiberglass handle allows for greater strength in prying applications
An upgraded epoxy design creates twice the bond strength between the head and handle, and won't crack or chip
Ergonomic thumb divot in the handle increases your control through every strike
Integrated rubber molding increases grip and reduces arm fatigue
What's Included:
16 oz. Titanium Milled/Curved Poly-Fiberglass Framing Hammer - TI16MCF
Warranty:
STILETTO TOOLS WARRANTY POLICY
This product is warranted by Stiletto Tools for one (1) year from the date of purchase against defects in workmanship and materials, with proof of purchase. During the warranty period, Stiletto will repair or replace a defective product with a new or reconditioned part or product, depending on the availability at the time of replacement.
This warranty covers normal usage and does not cover damage which results from accident, misuse, abuse, vandalism, neglect or improper maintenance. The warranty does not cover damage which results from unauthorized repairs, alterations or modifications. This warranty does not cover damage to hammer which results from striking hammer against hardened steel tools, i.e. cat's paw, chisel, hardened nail, bolts, etc.
1. Any product being returned to Stiletto Tools must be accompanied by a "Stiletto Tools Warranty Claim" form with an RMA# on the form and on the box in which it is returned. This form will be faxed to you after calling us and stating the problem. The claim form must be filled out completely, stating the date of purchase and reason for the return. This form must accompany the product being returned with the RMA#.
2. Each time a customer returns a Stiletto product to a retail establishment for a warranty claim, the retail staff should do a preliminary analysis as to whether a new product should be given to the customer in exchange for the returned product. (For example, a missing magnet or a broken handle can easily be repaired and a new tool should not be given in exchange in such circumstances.)
3. While the qualities of lightweight Titanium can reduce fatigue and sore elbows, and has a better nail-gripping adhesion, it should not be struck upon hardened objects. This could result in damage to the face of the hammer. Our test results have shown that our hammer will not wear excessively from normal use with all types of common nails. Although some wear will occur, it would not significantly reduce the nail-gripping performance of the titanium hammer face.
All warranty claims must be called into Stiletto first, before any action will be taken. Failure to contact Stiletto will lead to delay in replacement, repair, or credit.
Warranty repair is at the option of Stiletto upon inspection.
All warranty items shall be returned via prepaid shipment to Stiletto.
It is at Stiletto's option to repair or replace item AFTER receipt of said defective item.
Stiletto Tools Returns Procedure Call (800) 987-1849
The majority of Warranty returns to Stiletto are for broken wooden handles, and an entire product is wrongly returned to us for an easily replaceable wooden handle, whereas truly defective Titanium heads are uncommon. This is why it is so important for a retailer carrying our hammers to stock our replacement handles.
DEFECTIVE HEADS:
For warranty claims of defective castings, ie. cracked or broken claws, casting voids, etc., our Customer Service Dept should be notified immediately of the claim @ (800) 987-1849, and an RMA # will be issued for return to Stiletto for review. Pending evaluation those verified claims would be credited back to the customer, and a credit memo copy sent via fax to the customer.
Providing the following information will enable us to better expedite the processing of your returns:
1. Stiletto RMA # clearly marked on product or return carton.
2. Stated reasons for return of product.