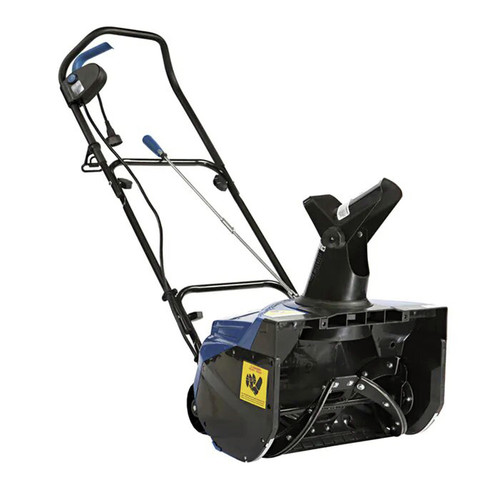 Snow Joe SJ620 Ultra Series 13.5 Amp 18 in. Electric Snow Thrower
Snow Joe Model:

snonsj620
This item qualifies for
FREE SHIPPING
Product Features & specs :
Snow Joe SJ620 Ultra Series 13.5 Amp 18 in. Electric Snow Thrower
Details
It's another freezing winter day, snowfall has again covered your lawn and driveway, and of course your clunky gas-powered snow thrower will not start because it is too cold. Forget that! The Snow Joe Ultra 13.5 Amp 18 in. Electric Snow Thrower will make clearing that snow an easy chore with a powerful motor that moves up to 650 lb. of snow per minute. Since this snow thrower is an electrical unit, a simple level and safety button will turn on this machine with ease. Say goodbye to fiddling with gas throwers!
Features:
Ideal for medium-sized driveways and walkways
Switch lever provides an instant start when using the snow thrower
Safety switch button prevents accidental starts
Compact wheels for easy maneuverability
No need for gas, oil, or tune-ups making it constantly ready for unanticipated use
ETL approved
What's Included:
Ultra Series 13.5 Amp 18 in. Electric Snow Thrower - SJ620
Warranty:
Warranty
Original Purchase Product Warranty for the United States and Canada:
General Conditions:
Snow Joe®, LLC warrants most new products to the original purchaser for two years against defects in material or workmanship when used for normal residential purposes, and 1 year for reconditioned products. If a replacement part or product is needed, it will be sent free of charge to the original purchaser except as noted below.
The duration of this warranty applies only if the product is put to personal use around the household. If the product is put to any business, commercial or industrial use or is rented or leased, then the duration of this warranty is 90 days from the date of original purchase. It is the owner's responsibility to correctly perform all maintenance and minor adjustments explained in the owner's manual.
How To Obtain Your Replacement Part Or Product:
To obtain a replacement part or product, please visit snowjoe.com/help or email us at help@snowjoe.com for instructions. Please be sure to register your unit beforehand to speed up this process. Certain products may require a serial number. All products require a valid proof of purchase.
Exclusions:
Wearing parts like belts, augers, chains and tines are not covered under this warranty. Wearing parts can be purchased at snowjoe.com or by calling 1-866-766-9563.
Batteries are covered in full for 90-days from the date of purchase.
Parts used that are not genuine Snow Joe® + Sun Joe® parts are not covered and may void this warranty.
Snow Joe®, LLC may from time to time change the design of its products. Nothing contained in this warranty shall be construed as obligating Snow Joe®, LLC to incorporate such design changes into previously manufactured products, nor shall such changes be construed as an admission that previous designs were defective.
This warranty is intended to cover product defects only. Snow Joe®, LLC is not liable for indirect, incidental or consequential damages in connection with the use or misuse of the Snow Joe® + Sun Joe® products covered by this warranty. This warranty does not cover any cost or expense incurred by the purchaser in providing substitute equipment or service during reasonable periods of malfunction or non-use of this product while waiting for a replacement part or unit under this warranty. Some states do not allow exclusions of incidental or consequential damages so the above exclusions may not apply in all states. This warranty may give you specific legal rights in your state.
How To Reach Us:
We're here to help Monday through Friday from 9AM to 6PM EST. You can reach us at 1-866-766-9563, online at snowjoe.com, via email at help@snowjoe.com, or tweet us @snowjoe.
Exports:
Customers who have purchased Snow Joe® products exported from the United States and Canada should contact their Snow Joe® + Sun Joe® Distributor (Dealer) to obtain information applicable for your country, province or state. If for any reason, you are not satisfied with the distributor's service, or if you have difficulty obtaining warranty information, contact your Snow Joe® + Sun Joe® seller. If in the event your efforts are unsatisfactory, please reach out to us directly.