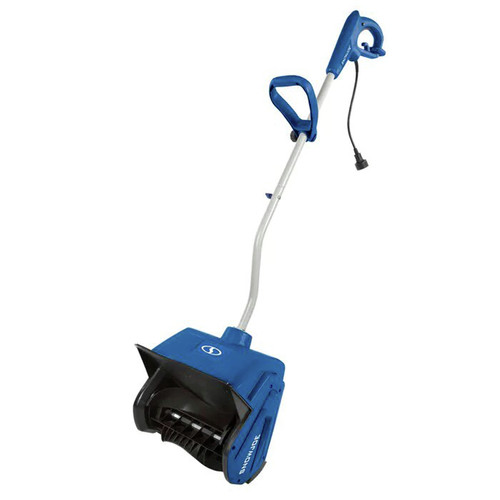 Snow Joe 323E Plus 10 Amp 13 in. Electric Snow Shovel
Snow Joe Model:

snon323e
Price reduced from

$99.99

to
Save 22%
$77.99
Snow Joe 323E Plus 10 Amp 13 in. Electric Snow Shovel
Snow Joe Model:

snon323e
Price reduced from

$99.99

to
Save 22%
$77.99
Product Features & specs :
Snow Joe 323E Plus 10 Amp 13 in. Electric Snow Shovel
Details
A smile takes over as you look out the window and see the first snow of the season. Seconds later, that smile fades realizing all the work you will have to do to shovel yourself out of the house to leave for work or school. Luckily the Snow Joe Plus 323 10 Amp 11 in. Electric Snow Shovel will help you accomplish that task with minimal work and in a fraction of the time it would take with a traditional shovel.
Features:
Instant Start button eliminates of fussing with strings and faulty starts due to cold weather
Safety button adds security preventing any accidental starts
Lighter construction allows the transportation of snow shovel from storage to work site with ease
Ergonomically design and adjustable handle alleviate back strain
What's Included:
Plus 10 Amp 13 in. Electric Snow Shovel - 323E
Warranty:
Warranty
Original Purchase Product Warranty for the United States and Canada:
General Conditions:
Snow Joe®, LLC warrants most new products to the original purchaser for two years against defects in material or workmanship when used for normal residential purposes, and 1 year for reconditioned products. If a replacement part or product is needed, it will be sent free of charge to the original purchaser except as noted below.
The duration of this warranty applies only if the product is put to personal use around the household. If the product is put to any business, commercial or industrial use or is rented or leased, then the duration of this warranty is 90 days from the date of original purchase. It is the owner's responsibility to correctly perform all maintenance and minor adjustments explained in the owner's manual.
How To Obtain Your Replacement Part Or Product:
To obtain a replacement part or product, please visit snowjoe.com/help or email us at help@snowjoe.com for instructions. Please be sure to register your unit beforehand to speed up this process. Certain products may require a serial number. All products require a valid proof of purchase.
Exclusions:
Wearing parts like belts, augers, chains and tines are not covered under this warranty. Wearing parts can be purchased at snowjoe.com or by calling 1-866-766-9563.
Batteries are covered in full for 90-days from the date of purchase.
Parts used that are not genuine Snow Joe® + Sun Joe® parts are not covered and may void this warranty.
Snow Joe®, LLC may from time to time change the design of its products. Nothing contained in this warranty shall be construed as obligating Snow Joe®, LLC to incorporate such design changes into previously manufactured products, nor shall such changes be construed as an admission that previous designs were defective.
This warranty is intended to cover product defects only. Snow Joe®, LLC is not liable for indirect, incidental or consequential damages in connection with the use or misuse of the Snow Joe® + Sun Joe® products covered by this warranty. This warranty does not cover any cost or expense incurred by the purchaser in providing substitute equipment or service during reasonable periods of malfunction or non-use of this product while waiting for a replacement part or unit under this warranty. Some states do not allow exclusions of incidental or consequential damages so the above exclusions may not apply in all states. This warranty may give you specific legal rights in your state.
How To Reach Us:
We're here to help Monday through Friday from 9AM to 6PM EST. You can reach us at 1-866-766-9563, online at snowjoe.com, via email at help@snowjoe.com, or tweet us @snowjoe.
Exports:
Customers who have purchased Snow Joe® products exported from the United States and Canada should contact their Snow Joe® + Sun Joe® Distributor (Dealer) to obtain information applicable for your country, province or state. If for any reason, you are not satisfied with the distributor's service, or if you have difficulty obtaining warranty information, contact your Snow Joe® + Sun Joe® seller. If in the event your efforts are unsatisfactory, please reach out to us directly.