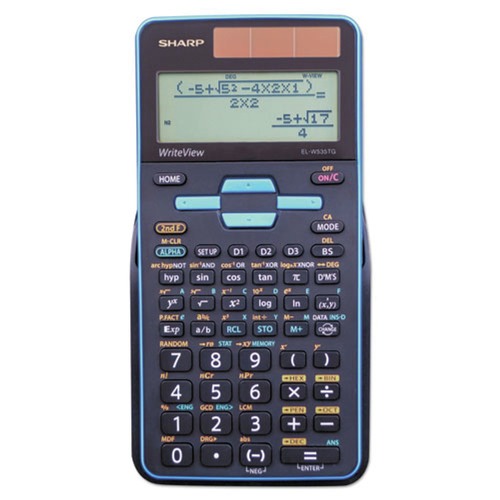 Sharp ELW535TGBBL 16-Digit LCD, EL-W535TGBBL Scientific Calculator
Sharp Model:

shrnelw535tgbbl
Sharp ELW535TGBBL 16-Digit LCD, EL-W535TGBBL Scientific Calculator
Sharp Model:

shrnelw535tgbbl
Product Features & specs :
Sharp ELW535TGBBL 16-Digit LCD, EL-W535TGBBL Scientific Calculator
Details
The EL-W535TGB-BL model is perfect for students studying general math and science, pre-algebra, algebra, geometry, trigonometry, statistics, biology, and chemistry. This calculator performs 422 advanced scientific, math, and statistics functions. The EL-W535TGB-BL utilizes a 4-line display featuring an exponent symbol. WriteView display allows users to view their input and results as they would appear in a textbook. The home key allows users to start fresh from any screen. This calculator has eight temporary memories, three definable memories, one independent memory, and one last answer memory. This calculator also allows equation editing and playback, 1 and 2 variable statistics, normal, stat, and drill modes, seven regression types, and N-BASE calculations: HEX, BIN, DEC, OCT, PEN. Other functions include: logarithms, reciprocals, powers, roots, factorials, trigs, and hyperbolic trigs. Includes a protective hard case and operates on twin-power (solar with battery backup).
Features:
WriteView Display.

Large-16 digit, 4-line LCD display.

422 functions.

Home key.

3 Modes: normal, stat and drill.

8 temporary and 3 definable memory buttons.

1 and 2 variable statistics.

Durable, matte black finish with blue accents.

3-D light reflecting hard cover.

Twin-powered (solar with battery backup).
What's Included:
16-Digit LCD, EL-W535TGBBL Scientific Calculator - ELW535TGBBL
1 Independent; 1 Last Answer; 3 Definable; 8 Temporary
Logical (Boolean) Operations
Display Window Resolution
96 x 32 Dot Matrix Display
Probability (Random Number)
Complex Number Calculations
Display Characters x Display Lines
Polar-Rectangular Conversion
Currency Exchange Function
Confidence Interval Calculating
Depreciation Calculations
Display Characters Height
Fraction/Decimal Conversions
Higher Mathematical Functions
Algebra; Biology; Chemistry; Geometry; Pre-Algebra; Statistics; Trigonometry