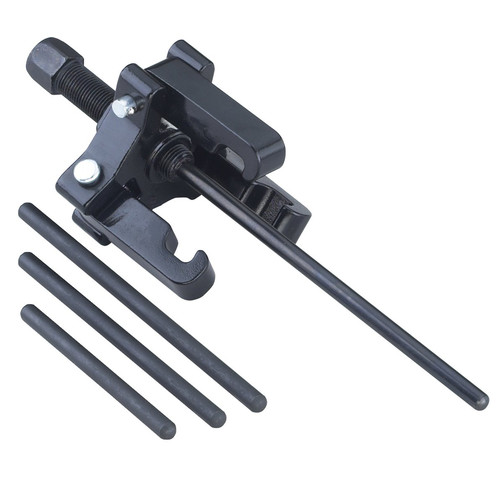 Want an email when this item is in stock?
OUT OF STOCK
Product Features & specs :
OTC Tools & Equipment 6667 Harmonic Balancer Puller
Details
Value is at the core of OTC Tools, whether it's a simple repair, or the most complex drivability concern, these award-winning tools universally solve problems faster, and at a better value, than any other product on the market. OTC provides top solutions to modern automotive service challenges while at the same time increasing technician's productivity and shop profits.
Features:
Designed for removing damper pulleys in tight engine compartments without removing the radiator
Can be used on GM 2000 Generation III 4.8L, 5.3L, 5.7L, 6.0L, and 8.1L V8 engines
Also works on Cadillac 4.5, 4.6, and 4.9L V8 engines beginning in 1988
Compatible with Chevrolet trucks 2003 and later with 4.2L I6, 2004 to current 3.5L I5 and 2005 to current 2.8L I4 engines
Suitable for Ford 1995 to later V8 engines with 3 spoke pressed on damper and Mitsubishi Eclipse 1995 - 1999 2.0L DOHC non-turbo engines
What's Included:
Three-Jaw Puller
5/16 in. x 4 in. Forcing Rod - 537757-4
5/16 in. x 5-13/32 in. Forcing Rod - 527757-5
5/16 in. x 6-1/2 in. Forcing Rod - 537757-6
5/16 in. x 7-13/32 Forcing Rod - 537757-7
Forcing Screw with 3.8 in. Square Drive
3/4 in. Hex Driver
GM 2000 Generation III 4.8L, 5.3L, 5.7L, 6.0L and 8.1L V8s/Cadillac 4.5, 4.6 and 4.9L V8s Beginning in 1988/Chevrolet Trucks 2003-later 4.2L I6/2004-current 3.5L I5 and 2005-current 2.8L I4/Chrysler Engines from 1990-later 2.0L, 2.4L-cyl, 2.5L, 2.7L, 3.3L, 3.5L and 3.8L V6s/Ford 1995-later V8 Engines with 3 Spoke Pressed on Damper/Mitsubishi Eclipse 1995-1999 2.0L DOHC Non-Turbo
Harmoning Balancer Puller