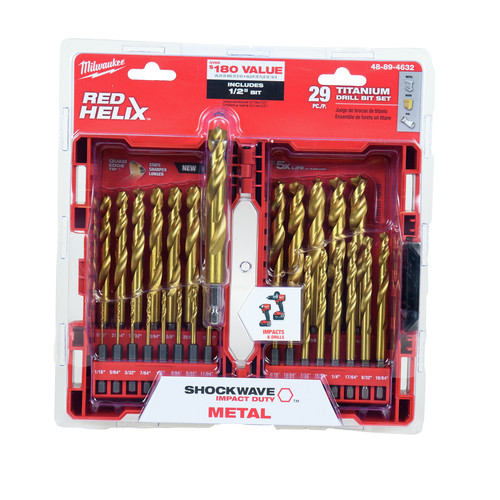 Milwaukee 48-89-4632 SHOCKWAVE 29-Piece RED HELIX Titanium Drill Bit Set
Milwaukee Model:

miln48-89-4632
Price reduced from

$115.00

to
Save 27%
$83.99
Milwaukee 48-89-4632 SHOCKWAVE 29-Piece RED HELIX Titanium Drill Bit Set
Milwaukee Model:

miln48-89-4632
Price reduced from

$115.00

to
Save 27%
$83.99
Product Features & specs :
Milwaukee 48-89-4632 SHOCKWAVE 29-Piece RED HELIX Titanium Drill Bit Set
Details
Milwaukee SHOCKWAVE Impact Duty Titanium Drill Bits with RED HELIX are engineered for impacts and drills. Designed with a Variable Helix with an aggressive 35 Degrees helix angle which ends at 15 Degrees, the impact duty titanium drill bits with RED HELIX provide Rapid Chip Removal limits heat buildup to Stay Sharper Longer. For rapid, accurate holes, the 135 Degrees split point tip provides a precision start and prevents walking. In comparison to Black Oxide Drill Bits, Titanium Coating can provide up to 5X life in all drilling situations.
Features:
Titanium coated for up to 5X life vs. black oxide

SHOCKWAVE Impact duty, engineered for drills and impacts

RED HELIX design for Rapid Chip Removal

CHIP BREAKER decreases heat buildup

135 Degree split point for precision start and prevents walking

1/4 in. Hex Shank for use in Drills or Impact Drivers

Ideal for Wood, Plastics, and Metals

Available in 29 fractional sizes
What's Included:
(1) SHOCKWAVE 9/64 in. RED HELIX Titanium Drill Bit - 48-89-4606

(1) SHOCKWAVE 9/32 in. RED HELIX Titanium Drill Bit - 48-89-4615

(1) SHOCKWAVE 7/64 in. RED HELIX Titanium Drill Bit - 48-89-4604

(1) SHOCKWAVE 7/32 in. RED HELIX Titanium Drill Bit - 48-89-4611

(1) SHOCKWAVE 7/16 in. RED HELIX Titanium Drill Bit - 48-89-4625

(1) SHOCKWAVE 5/64 in. RED HELIX Titanium Drill Bit - 48-89-4602

(1) SHOCKWAVE 5/32 in. RED HELIX Titanium Drill Bit - 48-89-4607

(1) SHOCKWAVE 5/16 in. RED HELIX Titanium Drill Bit - 48-89-4617

(1) SHOCKWAVE 3/8 in. RED HELIX Titanium Drill Bit - 48-89-4621

(1) SHOCKWAVE 3/32 in. RED HELIX Titanium Drill Bit - 48-89-4603

(1) SHOCKWAVE 3/16 in. RED HELIX Titanium Drill Bit - 48-89-4609

(1) SHOCKWAVE 27/64 in. RED HELIX Titanium Drill Bit - 48-89-4624

(1) SHOCKWAVE 25/64 in. RED HELIX Titanium Drill Bit - 48-89-4622

(1) SHOCKWAVE 23/64 in. RED HELIX Titanium Drill Bit - 48-89-4620

(1) SHOCKWAVE 21/64 in. RED HELIX Titanium Drill Bit - 48-89-4618

(1) SHOCKWAVE 19/64 in. RED HELIX Titanium Drill Bit - 48-89-4616

(1) SHOCKWAVE 17/64 in. RED HELIX Titanium Drill Bit - 48-89-4614

(1) SHOCKWAVE 15/64 in. RED HELIX Titanium Drill Bit - 48-89-4612

(1) SHOCKWAVE 15/32 in.RED HELIX Titanium Drill Bit - 48-89-4627

(1) SHOCKWAVE 13/64 in. RED HELIX Titanium Drill Bit - 48-89-4610

(1) SHOCKWAVE 11/64 in. RED HELIX Titanium Drill Bit - 48-89-4608

(1) SHOCKWAVE 11/32 in. RED HELIX Titanium Drill Bit - 48-89-4619

(1) SHOCKWAVE 1/8 in. RED HELIX Titanium Drill Bit - 48-89-4605

(1) SHOCKWAVE 1/4 in. RED HELIX Titanium Drill Bit - 48-89-4613

(1) SHOCKWAVE 1/2 in. RED HELIX Titanium Drill Bit - 48-89-4629

(1) SHOCKWAVE 1/16 in. RED HELIX Titanium Drill Bit - 48-89-4601