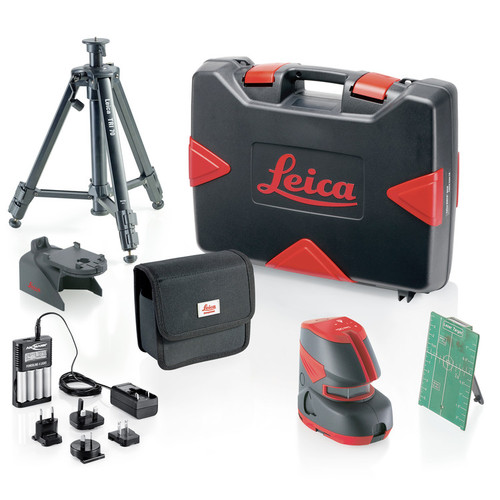 Leica Lino L2G+ 180 Degree Green Cross Line Laser Pro Kit
Leica Model:

lcan817857
Price reduced from

$494.99

to
Save 29%
$349.99
This item qualifies for
FREE SHIPPING
CA Residents
Prop 65 Warning
WARNING: Cancer and Reproductive Harm -- www.P65Warnings.ca.gov
Leica Lino L2G+ 180 Degree Green Cross Line Laser Pro Kit
Leica Model:

lcan817857
Price reduced from

$494.99

to
Save 29%
$349.99
Product Features & specs :
Leica Lino L2G+ 180 Degree Green Cross Line Laser Pro Kit
Details
The Leica Lino L2G+ 180 Degree Green Cross Line Laser projects highly visible green lines at right angles to one another. This L2G+ uses the latest green laser technology which provides less speckle and projects clearer, crisper lines. This laser will make it easier for you to see your reference line at distances of up to 100 ft. in brighter working conditions and with an accuracy of 1/8 in. at 50 ft. The horizontal beam displays a full 180 degrees while the vertical shows 130 degrees. The L2G+ is self leveling within 4 degrees and includes a pendulum lock allowing for protection in transport or when setting the unit at extreme angles. The housing of this unit is dust/water protected to IP54 standards, and includes a 1/4 in. - 20 threaded insert for mounting purposes.
Features:
Direct emitting green laser provides clear, crisp, speckle free lines allowing for maximum accuracy for interior finishing tasks
Class 2 Laser Product, < 0.7mW Power Output, Wavelength 515-520
Green laser beams are up to four times more visible to the human eye so it is much easier to see, especially in very bright conditions or over long distances
The pendulum based self-leveling feature can be locked, allowing for protection during storage and transport
Dust and splash water protects to IP 54 standards making it tough enough for today's jobsite environment
7 hrs. of battery life while using with both beams so you can work a full day with one set of batteries
Rechargeable Ni-MH will save you money from continuously buying fresh set of batteries
What's Included:
Lino L2G+ 180 Degree Green Cross Line Laser - 817856
Green Target Plate
Magnetic Mounting Bracket
Hard Case
Nylon Pouch
Tripod - TRI-70
(4) Ni-MH Batteries
Ni-MH Battery Charger
Accuracy Margin (Horizontal)
Operating Temperature (F).Run Time (Max.)
Accuracy Margin (Vertical)
Effective Range (Receiver)
Accuracy Margin Distance (Horizontal)
Accuracy Margin Distance (Vertical)
Warranty:
Warranty Information
| | | | |
| --- | --- | --- | --- |
| 3 Year Warranty if registered 8 weeks after purchase at www.disto.com | 2 Year Warranty if registered 8 weeks after purchase at www.disto.com | 2 Year Warranty | 1 Year Warranty |
| DISTO™ | ROTEO | LINO | Jogger |
| | | Sprinter | Reconditioned and Open Box |
International Limited Warranty
---
EXPRESS WARRANTY FOR HARDWARE
Leica Geosystems AG ("Leica Geosystems"), warrants to the original end user ("Customer") that this Product will be free from defects in workmanship and materials, under normal use, for generally one (1) year, except for (i) DISTO™ products for which two (2) years shall apply, and (ii) batteries for which ninety (90) days shall apply, unless such warranty period has been extended by Leica Geosystems, and provided any and all operating and maintenance instructions are strictly respected, in particular in case of extreme and/or continuous applications/use of the Product. The warranty period begins on the proved purchase date (or if applicable, date of delivery or date of acceptance report). Leica Geosystems' sole obligation under this express warranty shall be, at Leica Geosystems' sole option and expense, to replace or repair the Product or part, or refund the purchase price paid for the Product. Leica Geosystems warrants any repaired or replaced Product or part for a period of ninety (90) days from shipment, or through the end of the original warranty, whichever is longer. All Products or parts that are replaced become the property of Leica Geosystems. This express warranty does neither cover consumables, such as reflectors, bulbs and fuses, nor third party products.
---
EXPRESS WARRANTY FOR SOFTWARE
For "System Software" (defined as operating software and/or firmware necessary for switching on and running the Product), all provisions contained in this International Limited Warranty shall apply as for hardware. With respect to "Application Software" (defined as preinstalled or loadable on-board software and/or office or PC-based software for particular operations of the Product and/or data), the warranty provisions contained herein shall expressly not apply. For further information on the scope of the warranty coverage for Application Software please refer to the correspondent Software License Agreement.
---
OBTAINING WARRANTY SERVICE
Customer must contact the authorized distributor of Leica Geosystems or, with the exception of DISTO™ products, Leica Geosystems' Service Center indicated by Leica Geosystems within the applicable warranty period to obtain warranty service authorization. Dated proof of original purchase from Leica Geosystems or its authorized distributor and a description of the defect will be required. Leica Geosystems is not responsible for Products or parts received without a warranty service authorization. Repaired or replacement Products will be shipped to Customer at Leica Geosystems' expense. The repaired product or part will be shipped as soon as reasonably possible. Leica Geosystems shall not be responsible for any damages occurring during such shipment. Leica Geosystems shall, at its sole discretion, decide on the place of performance for work under warranty. For Products forming part of a fixed installation, such place of performance shall be the site of such installation and Leica Geosystems shall have the right to charge for additional costs for such services under warranty if the site of the Product is other than where the Product was originally installed or shipped.
---
WARRANTY EXCLUSIVE
Customer's sole remedy for breach of the warranty shall be the express warranty. The foregoing warranty is exclusive and is in lieu of all other warranties, terms or conditions, express or implied, either in fact or by operation of law, statutory or otherwise, including warranties, terms or conditions of merchantability, fitness for a particular purpose, satisfactory quality and non-infringement, all of which are expressly disclaimed.
Leica Geosystems shall not be liable if the alleged defect or malfunction was caused by Customer's or any other person's misuse, neglect, improper installation, unauthorized attempts to open, repair or modify the Product, inadequate maintenance, disregard of operating instructions, excessive load or stress, normal wear and tear, or any other cause beyond the range of its intended use, by accident, fire, or other hazards, or other cause not due or attributable to Leica Geosystems. This warranty does not cover physical damage to the Product or malfunctions resulting from the use of the Product in conjunction with any sort of ancillary or peripheral equipment and Leica Geosystems determines that there is no fault with the Product itself.
---
LIMITATION OF LIABILITY
Leica Geosystems also excludes any liability, whether based in contract or tort (including negligence), for incidental, consequential, indirect, special, or punitive damages of any kind, or costs of procurement of substitute products by customer, or for the loss of revenue or profits, loss of business, loss of information or data, or other information of financial loss arising out of or in consequence with the sale, installation, maintenance, use, performance, failure, or interruption of this product, even if Leica Geosystems or its distributors have been advised of the possibility of such damages, and limits its liability to replacement, repair, or refund of the purchase price paid, at Leica Geosystems' option. This Limitation of Liability for damages will not be affected if any remedy provided herein shall fail of its essential purpose.
---
DISCLAIMER
Should a court of jurisdiction not allow the entire exclusion or limitation of implied warranties or the limitation of incidental or consequential damages for certain products supplied to consumers, or the limitation of liability for personal injury, such implied warranties and such liabilities will be limited to the duration of the applicable express warranty.
---
GOVERNING LAW AND PLACE OF JURISDICTION
This Limited Warranty shall be governed by the laws of Switzerland, excluding all conflict of laws principles and excluding the United Nations Convention on the International Sale of Goods dated 11 April 1980. The ordinary courts at the Leica Geosystems registered office in Balgach, Switzerland shall be competent. Leica Geosystems shall, at its sole discretion, also be entitled to take legal action in the competent courts at the Customer's place of business or domicile. With this Limited Warranty, Leica Geosystems grants Customer specific legal rights which do not restrict any statutory consumer rights.
---
1 YEAR WARRANTY EXTENSION WITH ONLINE REGISTRATION
The following conditions must be complied with to obtain the warranty extension:
Registration must be made on the internet page www.leica-geosystems.com/registration
Registration must be made within 8 weeks of purchase date.
The warranty extension excludes Sprinters, Joggers, LINO and any accessories supplied.
A claim under the extended warranty period must include the original receipt of purchase, which includes the date of purchase, and the registration voucher (a print-out of the confirmation page on the internet or the registration voucher sent by email).
The International Manufacturer's Warranty for Leica Geosystems products is valid for the whole warranty period. Further information on this can be found in the Operating Manual of your product or on the internet under www.leica-geosystems.com/internationalwarranty
Your details will only be used for registering your device and will not be passed-on to third parties.
Leica Geosystems AG
Heinrich-Wild-Strasse
CH - 9435 Heerbrugg
(Switzerland)
Heerbrugg, July 1, 2002