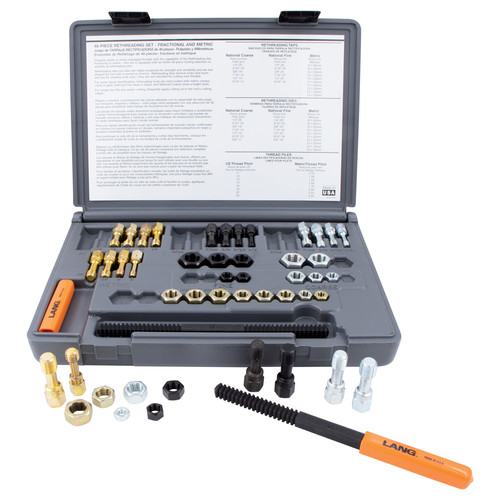 Lang 971 48-Piece SAE and Metric Thread Restorer Kit
Lang Model:

lngn971
This item ships directly from manufacturer in 3-5 days
CA Residents
Prop 65 Warning
WARNING: This product can expose you to Lead, which is known to the State of California to cause Cancer. For more information go to www.P65Warnings.ca.gov.
Product Features & specs :
Lang 971 48-Piece SAE and Metric Thread Restorer Kit
Details
Lang represents hand tools that professional technicians and handymen have used for 80 years, which assures that you are dealing with performance proven, consumer preferred, professional high quality products.
Features:
For quick, on-the-job repairs of damaged threads on bolts and studs

Chase out damaged threads and remove nicks and burrs without undercutting good threads

Rethreading dies are highly tempered for strength and durability, and are 6-point shaped for use with socket or wrench

Dies are color-coded for quick visual identification. Use with standard wrench and light oil
What's Included:
1/4 in. - 20 National Coarse Die - 51-2625-0005

5/16 in. - 18 National Coarse Die - 51-2626-0005

3/8 in. - 16 National Coarse Die - 51-2627-0005

7/16 in. - 14 National Coarse Die - 51-2628-0005

1/2 in. - 13 National Coarse Die - 51-2629-0005

9/16 in. - 12 National Coarse Die - 51-2630-0005

5/8 in - 11 National Coarse Die -51-2631-0005

1/4 in. - 20 National Coarse Tap - 50-2600-0005

5/16 in. - 18 National Coarse Tap - 50-2601-0005

3/8 in. - 16 National Coarse Tap - 50-2602-0005

7/16 in. - 14 National Coarse Tap - 50-2603-0005

1/2 in. - 13 National Coarse Tap - 50-2604-0005

9/16 in. - 12 National Coarse Tap - 50-2605-0005

1/4 in. - 28 National Fine Die - 51-2640-0005

5/16 in. - 24 National Fine Die - 51-2641-0005

3/8 in. - 24 National Fine Die - 51-2642-0005

7/16 in. - 20 National Fine Die - 51-2643-0005

1/2 in. - 20 National Fine Die - 51-2644-0005

9/16 in. - 18 National Fine Die - 51-2645-0005

5/8 in. - 18 National Fine Die - 51-2646-0005

1/4 in. - 28 National Fine Tap - 50-2610-0005

5/16 in. - 24 National Fine Tap - 50-2611-0005

3/8 in. - 24 National Fine Tap - 50-2612-0005

7/16 in. - 20 National Fine Tap - 50-2613-0005

1/2 in. - 20 National Fine Tap - 50-2614-0005

9/16 in. - 18 National Fine Tap - 50-2615-0005

M6 x 1.00 Metric Die - 52-2655-0005

M8 x 1.25 Metric Die - 52-2656-0005

M10 x 1.00 Metric Die - 52-2699-0005

M10 x 1.25 Metric Die - 52-2662-0005

M10 x 1.50 Metric Die - 52-2657-0005

M11 x 1.50 Metric Die - 52-2702-0005

M12 x 1.25 Metric Die - 52-2660-0005

M12 x 1.50 Metric Die - 52-2658-0005

M12 x 1.75 Metric Die - 52-2659-0005

M14 x 1.50 Metric Die - 52-2703-0005

M6 x 1.00 Metric Tap - 50-2620-0005

M8 x 1.25 Metric Tap - 50-2621-0005

M10 x 1.00 Metric Tap - 50-2638-0005

M10 x 1.25 Metric Tap - 50-2619-0005

M10 x 1.50 Metric Tap - 50-2622-0005

M11 x 1.50 Metric Tap - 50-2639-0005

M12 x 1.25 Metric Tap - 50-2637-0005

M12 x 1.50 Metric Tap - 50-2623-0005

M12 x 1.75 Metric Tap - 50-2624-0005

M14 x 1.50 Metric Tap - 50-2618-0005

SAE Threaded File - 2665

Metric Threaded File - 2670