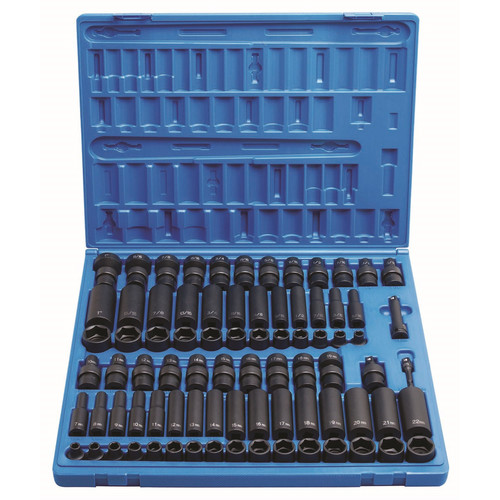 Grey Pneumatic 1281 81-Piece 3/8 in. Drive Complete Socket Set
Grey Pneumatic Model:

gryn1281
This item qualifies for
FREE SHIPPING
This item ships directly from manufacturer in 3-5 days
Grey Pneumatic 1281 81-Piece 3/8 in. Drive Complete Socket Set
Grey Pneumatic Model:

gryn1281
Product Features & specs :
Grey Pneumatic 1281 81-Piece 3/8 in. Drive Complete Socket Set
Details
The 81-Piece 3/8" Drive Complete Socket Set contains the most popular 3/8" drive 6 point sockets and universals with extended range metric sizes up to 22mm. With a wide array of sizes, this 81 pc. set is packed with sockets to accommodate almost any job!
Each socket is thoroughly made with the correct balance of strength and durability and is tested to the highest specifications to deliver outstanding performance. The high torque drive of these sockets provides increased strength through the transfer of pressure from the thinnest part of the socket wall toward the thicker section. All contents are packed in a compact low profile blow molded storage case which can be used as a tool box organizer when the cover is removed.
Features:
All-in-one 3/8" drive complete impact master set for automotive, industrial, assembly, maintenance, heavy duty and construction industries

All packed in a compact, low profile, blow molded storage case which can be used as a tool box organizer when the cover is removed

3/8" square adapter, 3" extension and universal joint for use with hex drive impact tools
What's Included:
3/8" Drive 3" Friction Ball Extension - 1143E

3/8" Universal Friction Ball U-Joint - 1129UJ

1/4" Hex Drive 3/8" Friction Ball Adapter - 1438HA

Molded Storage Case

3/8" Drive 5/16" Standard Length Impact Socket - 1010R

3/8" Drive 3/8" Standard Length Impact Socket - 1012R

3/8" Drive 7/16" Standard Length Impact Socket - 1014R

3/8" Drive 1/2" Standard Length Impact Socket - 1016R

3/8" Drive 9/16" Standard Length Impact Socket - 1018R

3/8" Drive 5/8" Standard Length Impact Socket - 1020R

3/8" Drive 11/16" Standard Length Impact Socket - 1022R

3/8" Drive 3/4" Standard Length Impact Socket - 1024R

3/8" Drive 13/16" Standard Length Impact Socket - 1026R

3/8" Drive 7/8" Standard Length Impact Socket - 1028R

3/8" Drive 15/16" Standard Length Impact Socket - 1030R

3/8" Drive 1" Standard Length Impact Socket - 1032R

3/8" Drive 5/16" Deep Length Impact Socket - 1010D

3/8" Drive 3/8" Deep Length Impact Socket - 1012D

3/8" Drive 7/16" Deep Length Impact Socket - 1014D

3/8" Drive 1/2" Deep Length Impact Socket - 1016D

3/8" Drive 9/16" Deep Length Impact Socket - 1018D

3/8" Drive 5/8" Deep Length Impact Socket - 1020D

3/8" Drive 11/16" Deep Length Impact Socket - 1022D

3/8" Drive 3/4" Deep Length Impact Socket - 1024D

3/8" Drive 13/16" Deep Length Impact Socket - 1026D

3/8" Drive 7/8" Deep Length Impact Socket - 1028D

3/8" Drive 15/16" Deep Length Impact Socket - 1030D

3/8" Drive 1" Deep Length Impact Socket - 1032D

3/8" Drive 7mm Standard Length Impact Socket - 1007M

3/8" Drive 8mm Standard Length Impact Socket - 1008M

3/8" Drive 9mm Standard Length Impact Socket - 1009M

3/8" Drive 10mm Standard Length Impact Socket - 1010M

3/8" Drive 11mm Standard Length Impact Socket - 1011M

3/8" Drive 12mm Standard Length Impact Socket - 1012M

3/8" Drive 13mm Standard Length Impact Socket - 1013M

3/8" Drive 14mm Standard Length Impact Socket - 1014M

3/8" Drive 15mm Standard Length Impact Socket - 1015M

3/8" Drive 16mm Standard Length Impact Socket - 1016M

3/8" Drive 17mm Standard Length Impact Socket - 1017M

3/8" Drive 18mm Standard Length Impact Socket - 1018M

3/8" Drive 19mm Standard Length Impact Socket - 1019M

3/8" Drive 20mm Standard Length Impact Socket - 1020M

3/8" Drive 21mm Standard Length Impact Socket - 1021M

3/8" Drive 22mm Standard Length Impact Socket - 1022M

3/8" Drive 7mm Deep Length Impact Socket - 1007MD

3/8" Drive 8mm Deep Length Impact Socket - 1008MD

3/8" Drive 9mm Deep Length Impact Socket - 1009MD

3/8" Drive 10mm Deep Length Impact Socket - 1010MD

3/8" Drive 11mm Deep Length Impact Socket - 1011MD

3/8" Drive 12mm Deep Length Impact Socket - 1012MD

3/8" Drive 13mm Deep Length Impact Socket - 1013MD

3/8" Drive 14mm Deep Length Impact Socket - 1014MD

3/8" Drive 15mm Deep Length Impact Socket - 1015MD

3/8" Drive 16mm Deep Length Impact Socket - 1016MD

3/8" Drive 17mm Deep Length Impact Socket - 1017MD

3/8" Drive 18mm Deep Length Impact Socket - 1018MD

3/8" Drive 19mm Deep Length Impact Socket - 1019MD

3/8" Drive 20mm Deep Length Impact Socket - 1020MD

3/8" Drive 21mm Deep Length Impact Socket - 1021MD

3/8" Drive 22mm Deep Length Impact Socket - 1022MD

3/8" Drive 5/16" Standard Length Universal Socket - 1010U

3/8" Drive 3/8" Standard Length Universal Socket - 1012U

3/8" Drive 7/16" Standard Length Universal Socket - 1014U

3/8" Drive 1/2" Standard Length Universal Socket - 1016U

3/8" Drive 9/16" Standard Length Universal Socket - 1018U

3/8" Drive 5/8" Standard Length Universal Socket - 1020U

3/8" Drive 11/16" Standard Length Universal Socket - 1022U

3/8" Drive 3/4" Standard Length Universal Socket - 1024U

3/8" Drive 13/16" Standard Length Universal Socket - 1026U

3/8" Drive 7/8" Standard Length Universal Socket - 1028U

3/8" Drive 15/16" Standard Length Universal Socket - 1030U

3/8" Drive 1" Standard Length Universal Socket - 1032U

3/8" Drive 10mm Standard Length Universal Socket - 1010UM

3/8" Drive 11mm Standard Length Universal Socket - 1011UM

3/8" Drive 12mm Standard Length Universal Socket - 1012UM

3/8" Drive 13mm Standard Length Universal Socket - 1013UM

3/8" Drive 14mm Standard Length Universal Socket - 1014UM

3/8" Drive 15mm Standard Length Universal Socket - 1015UM

3/8" Drive 16mm Standard Length Universal Socket - 1016UM

3/8" Drive 17mm Standard Length Universal Socket - 1017UM

3/8" Drive 18mm Standard Length Universal Socket - 1018UM

3/8" Drive 19mm Standard Length Universal Socket - 1019UM
Standard/Deep Length Impact Set