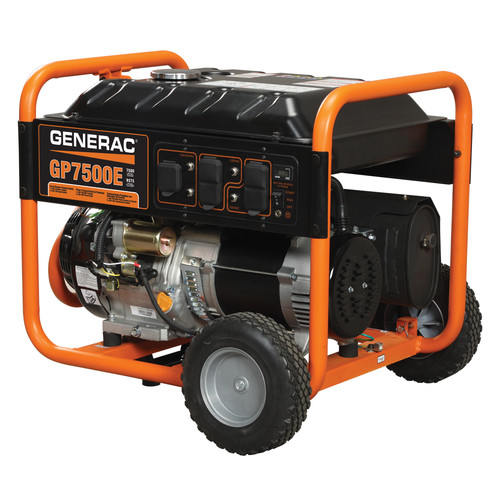 We're sorry, but this item is no longer available.
Product Features & specs :
Generac GP57500E GP7500E GP Series 7,500 Watt Portable Generator
Details
With a range of power options from 800 to 17,500 Watts, Generac has an affordable, reliable portable generator for any application.
Power the fun stuff or cover an emergency with a GP Series portable generator. Affordable reliability and features not usually found on basic portable models makes these units a favorite for home use, camping, job sites or outdoor events.
Features:
Low-oil shutdown detects low oil levels to prevent engine damage
Low-tone mufflers for quieter operation
Heavy-duty hardened steel tube cradle gives extra strength and durability
Circuit breaker protected outlets guard against circuit overload
Hour meter tracks usage between maintenance sessions
Fold down handles and never-flat wheels for portability
Fuel gauge incorporated for at a glance fuel monitoring
New, covered circuit breaker protected outlets provide added protection from the environment and rugged working conditions
Electric start with recoil backup, battery included
Meets the Canadian Standards Association (CSA) standards for sale and use in Canada and the United States
Unit not for use or sale in California, CARB compliant units available
What's Included:
Engine Oil
Plug-In Battery Charger
Instruction Sheets
Oil Funnel
Reviews :
Would you recommend this product?
Yes (9)
Q & A :
Browse 3 questions
Browse 3 questions and 3 answers
BEST ANSWER:
The unit comes with one liter of oil.
The manufacturer recommends slowly filling the unit with oil and checking the dipstick periodically until it reaches the full mark.
What is the difference between model number 5943 and 5978 on a 7500? I have an auto transfer switch. I just need to hook it up at my house and be able to run a hotwater heater.
BEST ANSWER:
The 5978 Meets the Canadian Standards Association (CSA) standards for sale and use in Canada and the United States.
( what is the make of the motor,please write me reply. thank you from Alex.).We Need a manual Home Depot has
no Manual.
We bought it today 03/10 2014. We will pict it up when is not raining.

Please send us a manual and the kind motor on the Genarac GP7500E Model # 5978 Thank you. store #7167
Home Depot 49 Fourth Store Orangeville Ontario Canada, Phone# 519-940-9061 (hard ware Department)
BEST ANSWER:
You need to be contacting Generac directly with your question, CPO is an internet retailer. Generac can be reached at 888-436-3722
Staff

Staff

on Apr 9, 2015
Warranty:
GENERAC POWER SYSTEMS "TWO YEAR" LIMITED WARRANTY FOR GP SERIES PORTABLE GENERATORS
For a period of two years from the date of original sale, Generac Power Systems, Inc. (Generac) warrants its GP Series generators will be free from defects in materials and workmanship for the items and period set forth below. Generac will, at its option, repair or replace any part which, upon examination, inspection and testing by Generac or a Generac Authorized Warranty Service Dealer, is found to be defective. Any equipment that the purchaser/owner claims to be defective must be returned to and examined by the nearest Generac Authorized Warranty Service Dealer.
All transportation costs under the warranty, including return to the factory, are to be borne and prepaid by the purchaser/owner. This warranty applies only to Generac GP Series portable generators and is not transferable from original purchaser. Save your proof-of-purchase receipt. If you do not provide proof of the initial purchase date, the manufacturer's shipping date of the product will be used to determine the warranty period.
WARRANTY SCHEDULE
Consumer applications are warranted for two (2) years. Commercial and Rental applications are warranted for one (1) year or 1000 hours maximum, whichever comes first.
CONSUMER APPLICATION
YEARS ONE and TWO
100% (one hundred percent) coverage on Labor and Part(s) listed (proof of purchase and maintenance is required):
Engine- All Components
Alternator- All Components
COMMERCIAL/RENTAL APPLICATION
YEAR ONE
100% (one hundred percent) coverage on Labor and Part(s) listed (proof of purchase and maintenance is required):
Engine- All Components
Alternator- All Components
NOTE:
For the purpose of this warranty "consumer use" means personal residential household or recreational use by original purchaser. This warranty does not apply to units used for Prime Power in place of utility where utility power service is present or where utility power service does not normally exist. Once a generator has experienced commercial or rental use, it shall thereafter be considered a non-consumer use generator for the purpose of this warranty.
All warranty expense allowances are subject to the conditions defined in Generac's Warranty Policies, Procedures and Flat Rate Manual.
THIS WARRANTY SHALL NOT APPLY TO THE FOLLOWING:
Generac built portable generators built prior to May 2008.
Generac portable generators that utilize non-Generac replacement parts.
Costs of normal maintenance and adjustments.
Failures caused by any contaminated fuels, oils or lack of proper oil levels.
Repairs or diagnostics performed by individuals other than Guardian/Generac authorized dealers not authorized in writing by Generac Power Systems.
Failures due, but not limited, to normal wear and tear, accident, misuse, abuse, negligence or improper use. As with all mechanical devices, the Generac engines need periodic part(s) service and replacement to perform as designed. This warranty will not cover repair when normal use has exhausted the life of a part(s) or engine.
Failures caused by any external cause or act of God, such as collision, theft, vandalism, riot or wars, nuclear holocaust, fire, freezing, lightning, earth-quake, windstorm, hail, volcanic eruption, water or flood, tornado or hurricane.
Damage related to rodent and/or insect infestation.
Products that are modified or altered in a manner not authorized by Generac in writing.
Any incidental, consequential or indirect damages caused by defects in materials or workmanship, or any delay in repair or replacement of the defective part(s).
Failure due to misapplication.
Telephone, cellular phone, facsimile, internet access or other communication expenses.
Living or travel expenses of person(s) performing service, except as specifically included within the terms of a specific unit warranty period.
Expenses related to "customer instruction" or troubleshooting where no manufacturing defect is found.
Rental equipment used while warranty repairs are being performed.
Overnight freight or special shipping costs for replacement part(s).
Overtime, holiday or emergency labor.
Starting batteries, fuses, light bulbs and engine fluids.
THIS WARRANTY IS IN PLACE OF ALL OTHER WARRANTIES, EXPRESSED OR IMPLIED. SPECIFICALLY, GENERAC MAKES NO OTHER WARRANTIES AS TO THE MERCHANTABILITY OR FITNESS FOR A PARTICULAR PURPOSE.
Some states do not allow limitations on how long an implied warranty lasts, so the above limitation may not apply to you.
GENERAC'S ONLY LIABILITY SHALL BE THE REPAIR OR REPLACEMENT OF PART(S) AS STATED ABOVE. IN NO EVENT SHALL GENERAC BE LIABLE FOR ANY INCIDENTAL OR CONSEQUENTIAL DAMAGES, EVEN IF SUCH DAMAGES ARE A DIRECT RESULT OF GENERAC'S NEGLIGENCE.
Some states do not allow the exclusion or limitation of incidental or consequential damages, so the above limitation may not apply to you. This warranty gives you specific legal rights. You also have other rights from state to state.