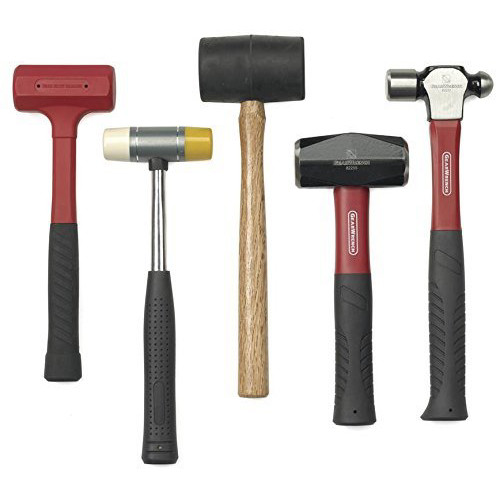 We're sorry, but this item is no longer available.
Product Features & specs :
GearWrench 82303D 5-Piece Hammer Set
Details
5 Piece Hammer Set by GearWrench. Set includes: 16 oz. Ball Pein Hammer - Molded Comfort Grip Handle, Black Finish with Polished Heads and Pein, Precision Hardened Striking Face, Fiberglass Handle, Comfortable black cushion grip, Dropped forged head from alloy steel finished in black with polished face, cheeks, and pein; 3 lb Drilling Hammer - Molded Comfort Fiberglass Grip Handle, Precision Hardened Striking Face and Heavy Duty uses with punches, chisels, and star drills; 12 oz. Soft Face Hammer -Removable Caps, Light Assembly Applications, Comfortable black cushion grip; 16 oz.
Features:
Contains the most striking tools for today's applications

Packaged in a durable storage tray

Solid hickory handle

Designed to match rigorous quality standards
Warranty:
Apex Tool Group, LLC warrants products and parts sold by it, insofar as they are of its own manufacture, against defects of material and workmanship, under normal use and service in accordance with its written instructions, recommendations, and ratings for installation, operation, maintenance, and service of products, for a period of ONE YEAR FROM THE DATE OF INITIAL USE, BUT IN NO EVENT SHALL THE WARRANTY EXCEED 24 MONTHS FROM DATE OF DELIVERY TO DISTRIBUTOR. Proof of Purchase with shipment date must be furnished by the user to validate the warranty. This warranty applies only to products manufactured by Apex Tool Group and specifically excludes products manufactured by others. Products not manufactured by Apex Tool Group are warranted only to the extent and in the manner warranted to Apex Tool Group by the manufacturer and then only to the extent Apex Tool Group is able to enforce such warranty. Apex Tool Group's warranty with respect to products manufactured by it is limited to the repair or replacement, as Apex Tool Group may elect, of any defective part regarding which the Distributor has given 5 days written notice from the discovery of such defect. Installation and transportation costs are not included. Apex Tool Group shall have the option of requiring the return to it of the defective material, transportation prepaid, for inspection. No allowance will be made for repairs without Apex Tool Groups's approval. APEX TOOL GROUP, LLC MAKES NO OTHER WARRANTY OF ANY KIND WHATSOEVER, EXPRESSED OR IMPLIED, AND HEREBY DISCLAIMS ALL WARRANTIES OF MERCHANTABILITY AND FITNESS FOR A PARTICULAR PURPOSE.
Apex Tool Group, LLC
1000 Lufkin Road
Apex, NC 27539
Phone: 919-387-0099
Fax: 919-387-2614
www.apextoolgroup.com
GearWrench® hand tools are warranted for Life to be free of defects in material and workmanship. Carrying cases, pouches, accessory bits and consumable products, if any, are not covered by this Warranty.
GearWrench - Consumer Tools
If any GearWrench Hand Tool purchased at a retailer, when used for its intended purpose, fails to give you complete satisfaction, please return it to the retailer location where purchased, or contact Apex Tool Group Consumer Division at (888)-757-1812 for free replacement or return.

GearWrench - Professional Tools
If use of any GearWrench Hand Tool® when used for its intended purpose, fails to give complete satisfaction, return it to your GearWrench Distributor or contact Apex Tool Group Professional Division at (800)-688-8949, and it will be repaired or replaced free of charge.

*Except Torque Products
*GearWrench Torque Products are warranted to (1) be free of defects in material and workmanship for one year and (2) meet out of the box calibration accuracy standards as stated in the product literature. Accuracy standards for calibration are warranted for 90 days from date of purchase. Products for which Warranty Repair is requested should be returned, at Buyer's cost, for evaluation to:

Warranty Service & Authorized Repair:
Electronic Torque Wrenches
Apex Torque Repair
3000 West Kingsley Road
Garland, TX 75041

All other Torque Products:
Angle Repair & Calibration Service, Inc.
175 Angle Drive
Beckley, West Virginia 25801

GearWrench Torque Products are precision instruments that contain moving parts. These components are subject to normal wear through use and replacement thereof is the responsibility of Buyer. Torque Products should be routinely checked for calibration at an Authorized Repair Center using GearWrench repair parts.