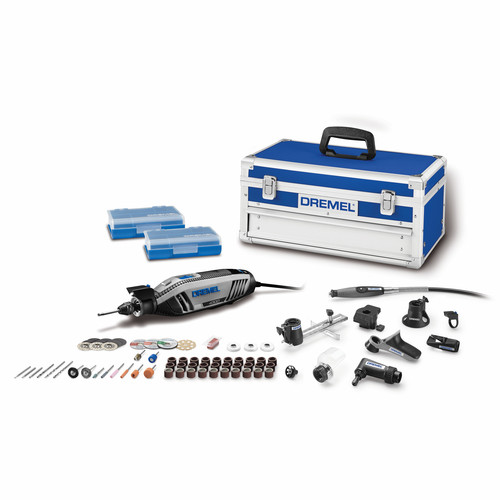 Dremel 4300-9-64 Variable Speed Rotary Tool
Dremel Model:

drln4300-9-64
Expected Ship Date: Wed, Sep 30
Product Features & specs :
Dremel 4300-9-64 Variable Speed Rotary Tool
Details
The Dremel 4300 is the first Dremel rotary tool to allow tool-less and collet-less accessory changes with the inclusion of the three-jaw chuck. The chuck accepts all Dremel accessory shank sizes for fast and convenient accessory changes without ever using a wrench. Featuring the all new Pivot Light, your projects are well-lit with an optimum line of sight since the light pivots to direct illumination where you want it. Experiencing the full range of Dremel rotary tool applications is easier than ever because the 4300 offers our most powerful motor with built-in variable speed and electronic feedback circuitry. And the slim, ergonomic body design provides a comfortable 360-degree grip zone no matter how you hold it for extended ease of use. The completely redesigned airflow system lets the Dremel 4300 run cool, quiet, and smooth so completing projects are more enjoyable than ever. Premium case included.
Features:
Pivot light rotates to illuminate your project
Universal 3-jaw chuck for easy accessory changes
Quieter and cooler running due to improved air flow
Our most powerful motor for maximum performance in demanding applications
Variable-speed with electronic feedback for consistent performance in all applications
Separate on/off switch and speed control dial for added convenience between jobs
Replaceable motor brushes extend tool life
Cool-running ball bearing construction for smooth and quiet operation
Compatible with all Dremel rotary tool attachments and accessories (some applications require the use of a collet system, included in kit)
Industry leading customer support
What's Included:
EZ402 EZ Lock Mandrel
EZ407 EZ Drum mandrel
EZ409 Thin Cut 1 1/2 in. Wheel
EZ456 Metal 1 1/2 in. Cut-Off Wheel
EZ541GR Metal 1 1/2 in. Edge Grinding Wheel
EZ423 Polishing Cloth
EZ544 Carbide Cutting/Shaping Wheel
EZ411SA EZ Lock Sanding Disc, 60 Grit EZ412SA EZ Lock Sanding Disc, 120 Grit (3)
107 1/8 in. Engraving HS Cutter
191 1/8 in. High Speed Cutter
7103 Diamond Wheel Point
560 Drywall Cutting Bit
561 Multi-purpose Cutting Bit
453 5/23 in. Chain Saw Sharpening Stone
454 3/16 in. Chain Saw Sharpening Stone
455 7/32 in. Chain Saw Sharpening Stone
8193 5/8 in. Aluminum Oxide
84922 3/16 in. Silicon Carbide
932 3/8 in. Aluminum Oxide
EZ413 SA
Pivot Light
225 Flex-Shaft
550 Shield
575 Right Angle Attachment
A576 Sanding/ Grinding Guide
A577 Detailer Grip
678 Circle Cutter
679 Garden Tool Sharpener
421 Polish Compound
403 Bristle Brushes
428 Carbon Steel Brush
408 Sanding Band
432 Sanding Band
445 Sanding Band
150 Drill 1/8 in.
490 Collet Fan
Premium case
Reviews :
Replacement
This works much better than my old one and I'm sure to get 10 plus years out of this one. I really like it.