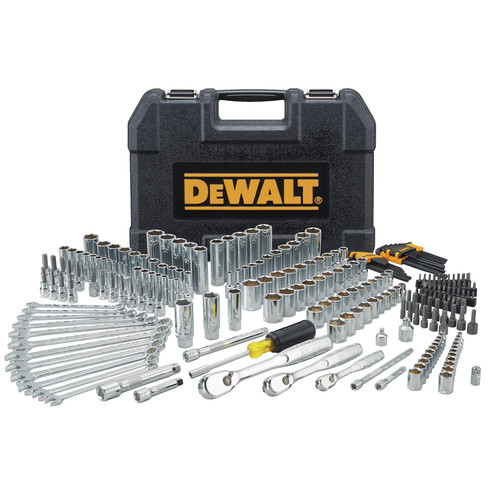 Dewalt DWMT81535 247 Pc Mechanics Tool Set
Dewalt Model:

dewndwmt81535
This item qualifies for
FREE SHIPPING
Product Features & specs :

Fine Performance
The 247 Piece Mechanics Tool Set with new shapes and sizes to accomplish any task

Dewalt Guaranteed Tough
Like its durable case, this Mechanics Tool Set is made to last
Dewalt DWMT81535 247 Pc Mechanics Tool Set
Details
This 247-Piece Mechanics Tool Set includes ratchets and sockets, a bit driver with specialty and nut bits, combination wrenches, and hex keys to handle almost any mechanical job under the hood or anywhere else. A durable blow molded case featuring metal latches provides organization and easy storage for travel. 72-tooth ratchets with quick-release button are built to work hard. Full-polish chrome makes these tools look great and provides corrosion resistance.
Features:
72-tooth ratchets, ideal for high torque ratcheting
Vinyl, anti-slip bit driver handle provides maximum comfort
Durable blow molded case with metal latches provides protection and storage for your tools
Full-polish chrome for corrosion resistance
What's Included:
Ratchets: 1/4 in., 3/8 in. & 1/2 in. Drive Pear Head Ratchet
1/4 in. Drive 6-Point Sockets: (SAE) - 5/32 in., 3/16 in., 7/32 in., 1/4 in., 9/32 in., 5/16 in., 11/32 in., 3/8 in., 7/16 in., 1/2 in., 9/16 in. (MM) - 4mm, 5mm, 6mm, 7mm, 8mm, 9mm, 10mm, 11mm, 12mm, 13mm, 14mm
1/4 in. Drive 6-Point Deep Sockets: (SAE) - 5/32 in., 3/16 in., 1/4 in., 9/32 in., 5/16 in., 11/32 in., 3/8 in., 7/16 in., 1/2 in. (MM) - 4mm, 5mm, 6mm, 7mm, 8mm, 9mm, 10mm, 11mm, 12mm, 13mm, 14mm
3/8 in. Drive 6-Point Sockets: (SAE) - 1/4 in., 5/16 in., 3/8 in., 7/16 in., 1/2 in., 9/16 in., 5/8 in., 11/16 in., 3/4 in., 13/16 in., 7/8 in. (MM) - 10mm, 11mm, 12mm,13mm, 14mm, 15mm, 16mm, 17mm, 18mm, 19mm, 21mm
3/8 in. Drive 6-Point Deep Sockets: (SAE) - 1/4 in., 5/16 in., 3/8 in., 7/16 in., 1/2 in., 9/16 in., 5/8 in., 11/16 in., 3/4 in., 13/16 in., 7/8 in. (MM) - 10mm, 11mm, 12mm,13mm, 14mm, 15mm, 16mm, 17mm, 18mm, 19mm, 21mm
3/8 in. Drive Bit Sockets: Hex (SAE) - 5/32 in., 3/16 in.,1/4 in., 5/16 in. Hex (MM) - 4mm, 5mm, 6mm, 7mm, 8mm Torx - # 10, 15, 20, 25, 27, 30, 40, 45
1/2 in. Drive 6-Point Sockets: (SAE) - 7/16 in., 1/2 in., 9/16 in., 5/8 in., 11/16 in., 3/4 in., 13/16 in., 7/8 in., 15/16 in., 1 in. (MM) – 13mm, 14mm, 15mm, 16mm, 17mm, 18mm, 19mm, 21mm, 22mm, 24mm
1/2 in. Drive 6-Point Deep Sockets: (SAE) - 11/16 in., 3/4 in., 13/16 in., 7/8 in., 15/16 in. (MM) - 17mm, 18mm, 19mm, 21mm, 22mm
Combination Wrenches: (SAE) - 11/32 in., 3/8 in., 7/16 in., 1/2 in., 9/16 in., 5/8 in. (MM) - 10mm, 11mm, 13mm, 14mm, 15mm, 16mm
Accessories: 1/4 in. Drive 3 in. & 6 in. Extension Bars, 1/4 in. Drive Female to 3/8 in. Drive Male Adapter 3/8 in. Drive 3 in. & 6 in. Extension Bars, 3/8 in. Drive 5/8 in., 3/4 in. & 13/16 in. Spark Plug Sockets 3/8 in. Drive Female to 1/4 in. Drive Male Adapter 1/2 in. Drive 5 in. Extension Bars, 1/2 in. Drive Female to 3/8 in. Drive Male Adapter
Nut Bits: (SAE) - 5/32 in., 3/16 in., 7/32 in., 1/4 in., 9/32 in., 5/16 in., 11/32 in., 3/8 in., 7/16 in. (MM) - 4mm, 5mm, 6mm, 7mm, 8mm, 10mm
Specialty Bits / Driver / Adapter: 28 Hex Keys, 44 Specialty Bits, 1 Bit Driver