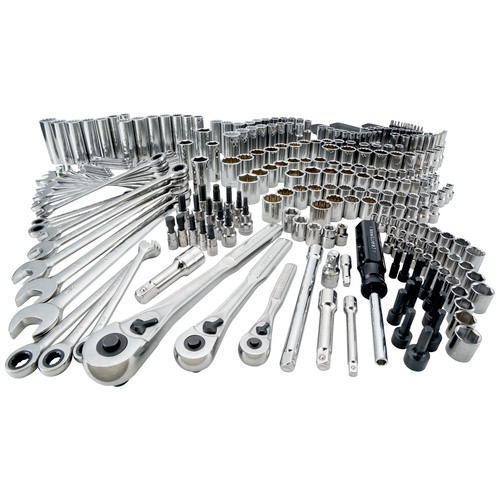 This item is temporarily out of stock. Want an email when it's back in stock?
OUT OF STOCK
Product Features & specs :
Craftsman CMMT82333 309-Piece Mechanics Tool Set
Details
309-Piece Master Mechanics Tool Set has a combination of ratchets, wrenches, sockets, and accessories that make it the perfect assortment for a professional user or advanced do-it-yourselfer. This set includes 1/4-in., 3/8-in., and 1/2-in. drive ratchets, six extension bars, 16 ratcheting wrenches, and a broad range of shallow and deep sockets. The 309-Piece Set places the perfect tool for the job within easy reach.
Features:
CORROSION RESISTANCE: Full Polish Chrome Finish
MINIMAL ARC SWING: 72-Tooth Ratchets in 3 drive sizes
INCREASED TORQUE: 6 Point Socket with fastener
ALLOWS FOR EASY TOOL STORAGE: Durable Blow Molded Case
QUICK SIZE IDENTIFICATION: Large Markings
Meets or Exceeds ASME Specifications
What's Included:
(3) Drive Ratchets: 1/4 in., 3/8 in., and 1/2 in.
(6) Extension Bars
(16) Ratcheting Wrenches
(11) 1/4 in. SAE 6-Point Sockets: 5/32 in., 3/16 in., 7/32 in., 1/4 in., 9/32 in., 5/16 in., 11/32 in., 3/8 in., 7/16 in., 1/2 in., 9/16 in.
(12) 1/4-in. Metric 6-Point Sockets: 4mm, 5mm, 5.5mm, 6mm, 7mm, 8mm, 9mm, 10mm, 11mm, 12mm, 13mm, 14mm
(10) 1/4 in. SAE 12-Point Sockets: 3/16 in., 7/32 in., 1/4 in., 9/32 in., 5/16 in., 11/32 in., 3/8 in., 7/16 in., 1/2 in., 9/16 in.
(10) 1/4-in. SAE Deep 6-Point Sockets: 3/16, 7/32, 1/4, 9/32, 5/16, 11/32, 3/8, 7/16,1/2, and 9/16-in.
(11) 1/4 in. Metric Deep 6-Point Sockets: 4mm, 5mm, 6mm, 7mm, 8mm, 9mm, 10mm, 11mm, 12mm, 13mm, 14mm
(10) 1/4 in. SAE Deep 12-Point Sockets: 3/16 in., 7/32 in., 1/4 in., 9/32 in., 5/16 in., 11/32 in., 3/8 in., 7/16 in., 1/2 in., 9/16 in.
(17) 3/8 in. Metric 6-Point Sockets: 6mm, 7mm, 8mm, 9mm, 10mm, 11mm, 12mm, 13mm, 14mm, 15mm, 16mm, 17mm, 18mm, 19mm, 20mm, 21mm, 22mm
(13) 3/8 in. SAE 6-Point Sockets: 1/4 in., 5/16 in., 3/8 in., 7/16 in., 1/2 in., 9/16 in., 5/8 in., 11/16 in., 3/4 in., 13/16 in., 7/8 in., 15/16 in., 1 in.
(5) 3/8 in. SAE 8-Point Sockets: 1/4 in., 5/16 in., 3/8 in., 7/16 in., 1/2 in.
(15) 3/8 in. Metric 12-Point Sockets: 6mm, 7mm, 8mm, 9mm, 10mm, 11mm, 12mm, 13mm, 14mm, 15mm, 16mm, 17mm, 18mm, 19mm, 21mm