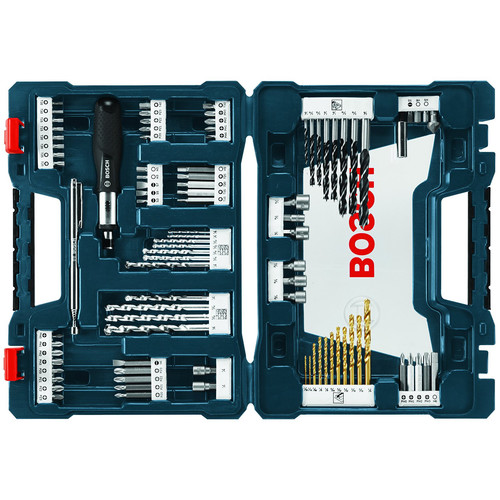 Bosch MS4091 91-Piece Drill and Drive Bit Set
Bosch Model:

bshnms4091
Product Features & specs :
Bosch MS4091 91-Piece Drill and Drive Bit Set
Details
This Bosch bit set - with ratcheting screwdriver - provides all-in-one convenience to users who need tough and high-quality Bosch accessories for applications in wood and metal. This 91-piece set provides bits for drilling and driving as well as nut setters, in an easy-to-use and easy-to-access case. The removable sections provide transportability.
Features:
A wide variety of general purpose accessories
Tough jobsite case
Carry-along convenience
What's Included:
91-Piece Drill and Drive Bit Set - MS4091
(34) 1 in. Insert Screw Bits, Ph: (2) 0, (2) 1, (2) 2, (2) 3 Pz: (2) 0, (2) 1, (2) 2, (2) 3 Sl: 3,, (2) 5,7 T: (2) 10, (2) 15, (2) 20, (2) 25, 30, 40 H: 3, (2) 5, 6, (15) 2 in.
Insert Screw Bits, Ph: 0, 1, 2, 3 : 0, 1, 2, 3 Sl: 6, T: 10, 15, 20, 25 Hex: 5,6,
(8) Nut Setters: 3/16 in., (2) 1/4 in., 9/32 in., 5/16 in., 11/32 in., 3/8 in., 7/16 in.
25-1/2 in. Magnetic Extension Pen
(30) Drill Bits Titanium: (2) 1/16 in., 7/64 in., (2) 1/8 in., 9/64 in., (2) 5/32 in., (2) 3/16 in., 1/4 in.
Rotary Masonry Bits:(2) 1/8 in., (2) 5/32 in., (2) 3/16 in., (2) 1/4 in., (2) 5/16 in., 3/8 in., Brad Point Bits:1/8, (2) 3/16 in., (2) 1/4 in. , (2) 5/16 in., 3/8 in.
Countersink
Bit Holder
Ratchet Screwdriver
Insert Screw Bit/Nut Setters/Magnetic Extension Pen/Rotary Masonry Bits/Countersink/Bit Holder/Ratchet Screwdriver