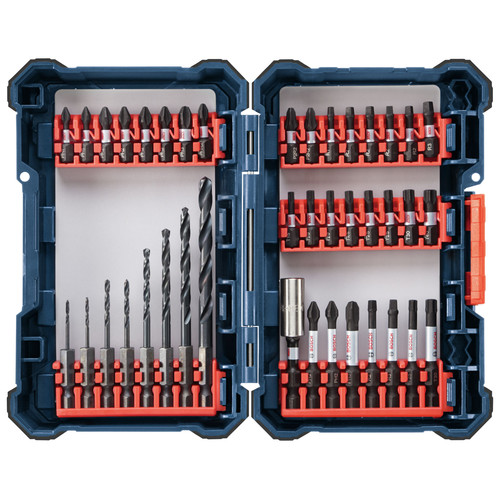 Bosch DDMS40 40 pc. Impact Tough Drill Drive Custom Case System Set
Bosch Model:

bshnddms40
$50 off $200 on Bosch Products! See Details
See More
See Less
Product Features & specs :
Bosch DDMS40 40 pc. Impact Tough Drill Drive Custom Case System Set
Details
The Bosch Custom Case System is compatible with Impact Tough driver bits and drill bits, delivering the best case for the best bits. These bits are impact rated and have been designed to handle the additional torque of today's impact drivers. With the Xtended Torsion Zone, the driver bits have been upgraded to deliver 10X life over standard impact bits. The Xtended Torsion Zone absorbs torque peaks to reduce stress at the bit tips. The Black Oxide Drill Bits provide longer life than standard drill bits, thanks to their tip design and black oxide coating. The durable, well-designed case provides tilt-in/tilt-out convenience for easy access to the bits. Since it's customizable, it helps increase user productivity by reducing time searching for the right bit. This jobsite tough case features a secure case latch and rubber bumpers.
Features:
Impact Tough bit design – both driver and drill bits are impact rated and provide longer bit life than standard impact bits
Driver bit Xtended Torsion Zone – helps to absorb high-torque of new impact drivers
Black oxide coating on drill bits – provides lower fiction, along with less heat for long life
Tilt-in/tilt-out case mechanism – allows easier access to bits
Precision-engineered driver bit tips – deliver a tighter fit and less cam-out
Heat-treated bit manufacturing – provides stronger bit
High-visibility bit markings – makes finding the correct bit for the job easier
Durable case – features a secure case latch and rubber bumpers
Customized storage configuration – provides efficiency so the right bit is always at hand
What's Included:
Insert Bits: P1,P2,P2, P3
Combo Bit (P2R2) R1, R2, R3, T20, T25, T30
2 in. Power Bits: P2, P3, R2, R3, T25, T30
Black Oxide Drill Bits:1/16 in., 3/32 in., 1/8 in., 5/32 in., 3/16 in., 1/4 in.
Standard Bitholder
Insert Bit/Combo Bits/Power Bits/Drill Bits
Reviews :
To the person who reviewed the item
I definitely know for a fact that Bosch makes excellent bits and tools the first guy who reviewed this is obviously an idiot. If you have read his review he said one of his drill bitts broke while drilling a pilot hole. The reason why it broke is because he was using an impact drill. The bit is not meant for impacts it's meant for a driver. Don't listen to that guy. Take my advice and don't use a drill bit with an impact to drill a pilot hole. Anyways I would definetly consider buying this product.
December 8, 2018
Originally posted at
I had an issue first time using the set
First time I used the drill bits I snapped the 3/16 bit drilling a simple pilot hole in a 2x4 with a 12v impact driver. I don't trust the drill bits. The rest of the driver bits have worked so far. Not the quality I'm use to from Bosch.
November 27, 2017
Originally posted at